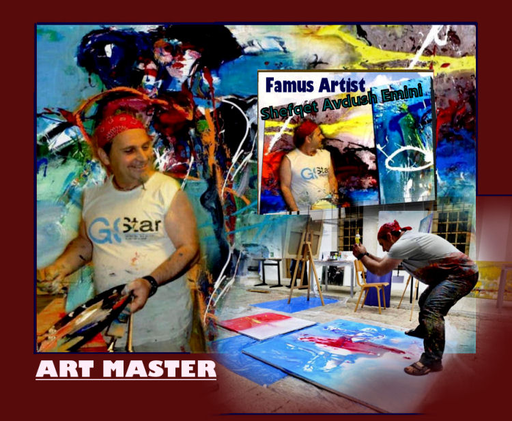 Biography:
Shefqet Avdush Emini, an internationally recognized artist. He is an academically educated artist who developed his own style. His own 'signature', which made him famous. The list of exhibitions of his artworks in museums and art galleries worldwide is long. Sweden, Denmark, Turkey, Morocco, Egypt, China, Austria, Nederland, Washington D.C.U,Switzerland,Germany, Italy, Grot Britannia, Spain, Portugal, France (Louver) Belgium, Romania, Bulgaria, Macedonia, Slovenia, Croatia, Serbia, Bosnia, Kosovo, Albania, Brazil, Washington, Kuwait, Slovakia,Poland, Oman, Russia, Palestina,Canada, Algeria, Azerbaijan, India . Besides, he is regular invited to join art symposia where local and international artist do come together to create art and get inspired. Shefqet is also connected to the Filarski Academy, a private Academy in The Netherlands founded by the artist Marian Filarski, as a teacher for master classes in painting.
Ina Eskes MA of Art history
https://www.shefqetavdushemini.levelofart.com/
NE DAVIDOVC
Tani atje mbizotron gjelozia primitive !
Nu dojn askend perveq vetvetes !
Egoizmi kishte kaluar qdo mase !
Per fat te keq , ishte renqetherse !
Endrrat dhe dashuria per vendelindje eshte zhdukur!...
Ishte zhdukur ndjenja humane!
Kishte humbur ndergjegjeja, ska mbetur me krenari!
Aty vrejta vetem kafshet qe nuk kishin ndryshuar!
Kafshet qe po e ruajshin identitetin me besnikri !
Dhash respekt per to dhe mbetem me nje shpres ...se?
Ndoshta nje dite ....?
Ndoshta nje dite ....?
Me shprese Ndoshta nje dite ... ?
Russia 2013
15-1-2017
ARTIST: SHEFQET AVDUSH EMINI
1. https://sites.google.com/site/davidovcartist/
2. http://www.dutchmasterpainters.com/index.php/nl/galerij/category/16...
3.http://www.artvipgallery.com/profile/ShefqetAvdushEmini
4.http://www.freewebs.com/shefqetemini/
5.http://hnkforum.ning.com/profiles/blog/list?user=3sahfkl1nnmvh
6.http://museudeartecontemporaneamac.blogspot.nl/2012/10/blog-post.html
7.http://www.artlyst.com/member-articles/intervist-me-artistin-shefqe...
8.http://www.mastersoftoday.com/Genius/Genius_102.htm
9.http://blog.seniorennet.be/shefqetemini/
Shefqet Avdush Emini